Standing guard at the edge of the capital is the iconic concrete structure that is the Bank of Guyana. It was established on October 15, 1965. Over the years, the Central Bank has performed exceptionally well in its role as economic advisor to the government and an institution that controlled the flow of money. The Bank has demonstrated our determination as a people to carve our path as a country.
This year the Bank celebrates 50 years under the theme 'Promoting Financial Development for Guyana's prosperity' as a silent servant and guardian of our economy.
Governor, Dr. Gobind Ganga set the stage for the 50th anniversary celebrations with the launch of a wide array of activities.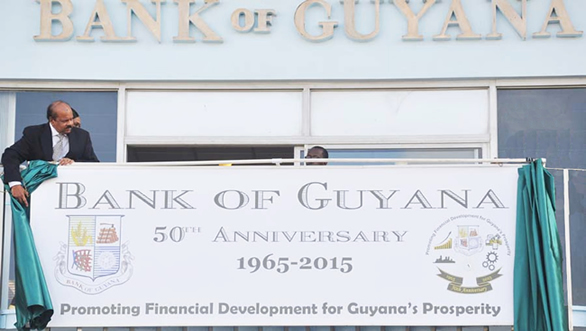 These included: unveiling a special 50th Anniversary logo; the minting of a commemorative coin, hosting a number of conferences with respect to addressing the financial and economic challenges faced by the Caribbean Region; a national essay competition and a grand fun day for staff members and their families. The Bank's money museum was also enhanced with two additional features on the ancient history of coins in Guyana.
On Thursday, October 15, 2015, the Bank in collaboration with the Guyana Post Office Corporation will unveil a commemorative stamp. A long service employee awards ceremony will also be held.