The Bank is pleased to collaborate with the Ministry of Foreign affairs on the issuance of a 50-dollar coin to commemorate 50 years of diplomatic relations between Guyana and the People's Republic of China. This is a fitting tribute as Guyana was the first nation in the English-speaking Caribbean to establish relations with the People's Republic of China.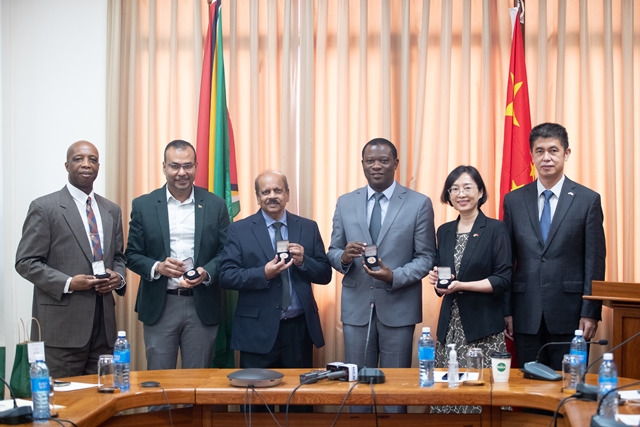 The design of the coin on the reverse has around the border the words, "Fifty years of Friendship and Cooperation" written in both English and Chinese. The centre graphic, rendered in bold colours of green and red is the number 50 –reflecting years of collaboration and cooperation that have brought about widespread development gains and a strong foundation for advancing peace, prosperity and security for all. When the fifty is turned upside down, it shows a conjoined C and G, tied together by the flags of our two nations. The dates of our partnership are inscribed on the inner ring of the coin. On the obverse is Guyana's Coat of Arms and the issuing authority Bank of Guyana.
This is our third colour coin which adds to our numismatic collection. We are grateful for the opportunity to be a part of this momentous occasion in the minting of this commemorative coin. Please see https://dpi.gov.gy/ for more on the presentation of the coin.
This coin was produced by Osbourne Mint and is struck on a silver-plated base metal. It will be on sale for $6,500.